Basic Information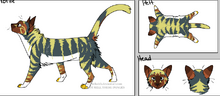 Pelt Description: I don't really know how to describe this cat. Flowerstorm is a blue cat with yellow tabby stripes. She has a white undercoat and the tips of her paws are yellow. She has brown pants and messy fur.
Gender: Female
Family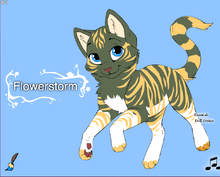 Mother: Goldenstorm
Father: Marshheart
Mate: Sandclaw
Kits: Winterpelt, Grassfur, Lemontail, Leafsoul, Sanddune
Litter Mates: Aquasoul, Seafeather, Oceanpelt
Related Pages
Ad blocker interference detected!
Wikia is a free-to-use site that makes money from advertising. We have a modified experience for viewers using ad blockers

Wikia is not accessible if you've made further modifications. Remove the custom ad blocker rule(s) and the page will load as expected.