Basic Information
Pelt Description: Tan and white tabby with a scar just above his right back-leg and another scar right above his left fore-leg.
Gender: Male
Tornadostripe was deputy but in the end Flamestar found out how bloodthirsty he was and she changed her deputy to Swiftclaw.
Family
Mother: Stonetail
Father: Rockysoul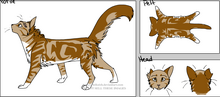 Mate: None
Litter Mates: Tunnelfang, Duststorm
Related Pages
Ad blocker interference detected!
Wikia is a free-to-use site that makes money from advertising. We have a modified experience for viewers using ad blockers

Wikia is not accessible if you've made further modifications. Remove the custom ad blocker rule(s) and the page will load as expected.